Location:  bottom floor of UREC
Accessibility:  open year around
Features:  4 lap lanes, 2 half basketball courts, 1 volleyball net, vortex pool, etc.
Location:  bottom floor of UREC
Accessibility:  open seasonally
Features:  lounge chair shallow access, full water volleyball court
Swim Lessons & Safety Courses
UREC offers Swim Lessons with experienced and certified instructors.
UREC offers Safety Courses in lifeguarding and first aid/cpr/aed.
Sunscreen dispensers on the outdoor pool deck were made possible by Students Against Melanoma, a student organization here at UNC Charlotte? Check out more information!
DROP-IN Whenever! 
This is a drop-in activity where participants can request access from lifeguards on duty. You can do it by yourself, with a friend, or a group. Look out for some competitions during the Fall and Spring semesters (Mens - Beginner & Advanced; Women's - Beginner & Advanced Categories).
TUESDAYS & THURSDAYS
9:00 - 10:00pm
Need to give your body and mind a break? Come swim at the indoor pool during Dark Mode! The pool deck lights are off, but the water is lit up for a fun dark mode swim.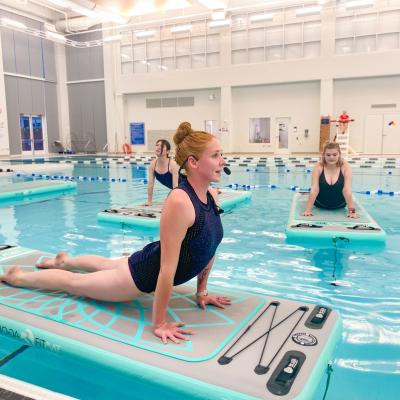 Th indoor pool includes a maximum depth of 5 feet, 4 lap lanes, 2 underwater half basketball courts, vortex features to swim against the current, and zero-entry ramp to provide easy entry for our pool access chair.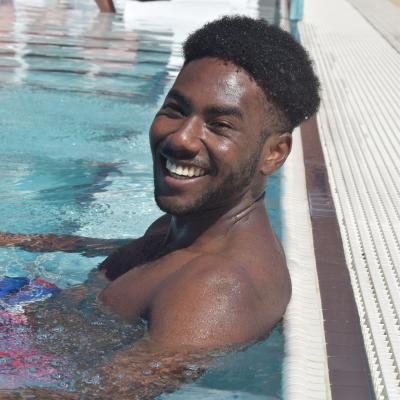 The outdoor pool has a leisure space with in-water lounge chairs as well as space to play a friendly game of pool volleyball. There are picnic tables, umbrellas, and sunscreen dispensers!
The Roy R. Fielding Aquatic Center
The Roy R. Fielding Aquatic Center in Belk Gym includes the pool, which measures 25-meters by 25-yards with the deepest part being 13 feet deep. It is home to practices for Swim Club and Water Polo Club. Special programming and events are offered in this pool on select days and times.
Fielding was a fixture at UNC Charlotte from 1977 through his retirement, serving as lecturer, aquatics director and senior lecturer in the Department of Kinesiology.