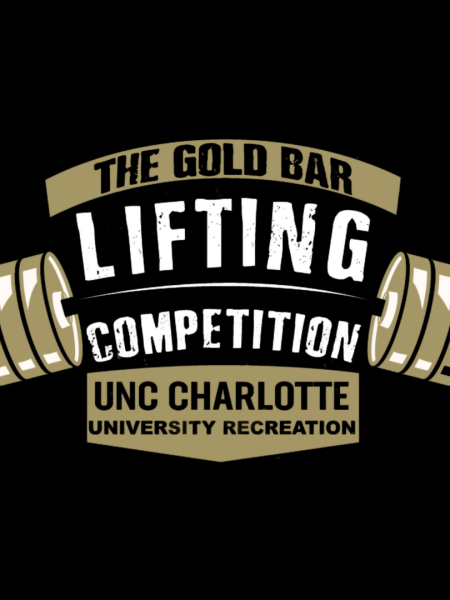 Headline
Test your strength in Squat, Bench, and Deadlift!
Compete in The Gold Bar Lifting Competition, hosted by UREC. 
Event Information
Who: Open to UNC Charlotte Students
When: Saturday, April 9th 2022 from 10AM - 3PM 
Where: Belk Gym Weight Room
Why: Test your strength! Have fun competing in a non-sanctioned "powerlifting meet" in a recreational setting, while it is a "competition" it is open to both experienced powerlifters and those who want to try it for the first time in a stress-free environment.
Competition Details
The competition will consist of Squat, Bench and Deadlift. Competitors will receive 3 attempts per lift. Spotters will be present to ensure the safety of our participants. Each lift will also have a judge - competitors must receive a signal from the judge to signify successful completion of the lift and earn credit for the attempt. If the judge does not signal success, the attempt will not count. Participants are able to choose the lifts they want to compete in. 
The Winner of for events and totals will be determined the Wilks score. *Please note that the number of winners will be awarded based on the total number of competitors.
Detailed rules found HERE.  
Registration
The competition is free for all current UNCC students. To register for The Gold Bar, please use this FORM. 
Notice
The times of the event will be determined based on the number of participants. Safety protocols will be implemented to meet current COVID guidelines. Registrations may be restricted based on future capacity requirements and unforeseen circumstances. 
Contact Josh Bruno josh.bruno@uncc.edu for any questions about the event.