Have you walked in to UREC and are overwhelmed at the equipment options? A Fitness Equipment Orientation may be for you! From various cardio & high, to free weights, and strength training machines, our goal is to help you find your perfect pieces of fitness equipment to exercise in a fun, safe and effective way.
The fitness equipment orientation will be led by a Fitness Specialist. The orientation can be anywhere from 15-30 minutes depending on the goal, and will include a brief walkthrough of our 4 Strength Training & Fitness floors. A few questions will be asked of you to ensure the Fitness Specialist has a good understanding of what your current goals are related to exercise. 
You can register in advance for a Fitness Equipment Orientation HERE. Or you can request an orientation when you arrive at UREC by asking the front desk or locating a Fitness Specialist on one of the fitness floors. The Fitness Specialist will be wearing lime green shirts and can be found on the 1st, 2nd, 4th or 5th floor of UREC. 
---
Quick Information about Fitness Equipment
 University Recreation offers Strength Training and Cardio/High-Intensity Equipment from many major brands!
CARDIO
TRUE, LifeFitness, Precor, Octane Fitness, Schwinn, Concept2, Woodway, Keiser, Matrix, Freemotion, and more!
STRENGTH TRAINING EQUIPMENT
Various free weight, plate loaded, selectorize and cable machines from LifeFitness, Cybex, Matrix, Free Motion, Human Sport, TechoGym, TRUE Fitness, and The Abs Company. 
 
---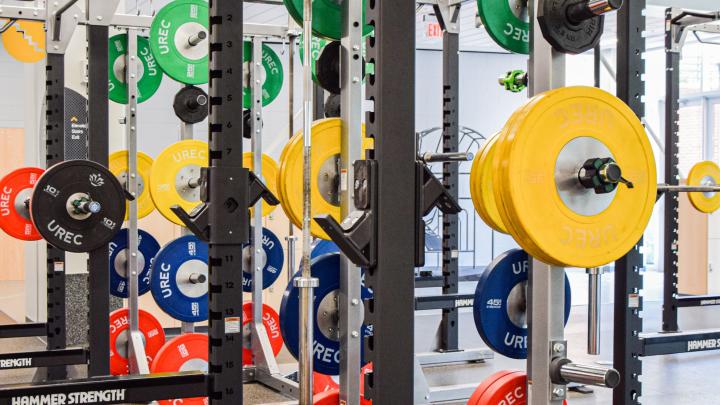 1st Floor
Free Weights & Cardio/High Intensity Interval Training (HIIT) Equipment
Squat Racks = 18
Dumbbells = weights ranging from 2.5lbs up to 130lbs
Kettlebells = 24 (weights ranging from 10lbs up to 88lbs)
Benches= 4 Standalone plus 4 Hammer Strength Dock N' Lock System
Hammer Strength & TRUE Fitness Plate Loaded Machines
Smith Machine & Freedom Rack
HIIT Equipment, Tire Flip Stations, Battle Ropes, The Slam Wall and More!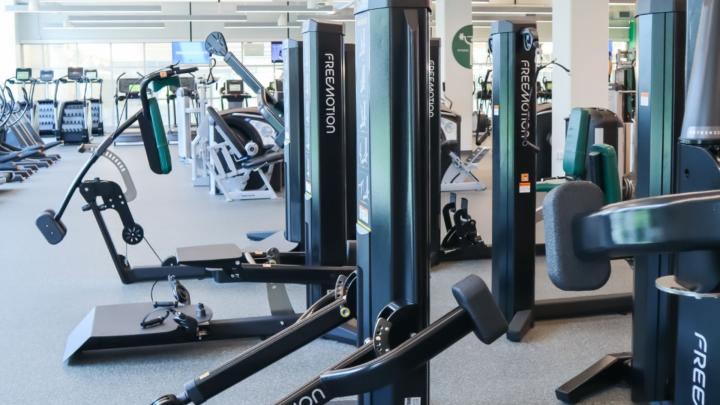 2nd Floor
Cardio Machines
Treadmills 
Ellipticals 
Bikes
StairClimbers/Steppers 
Matrix Krank Cycle
Rowers from Concept2
BoxMaster HIIT
_____ Strength Training, Selectorize, and Cable Machines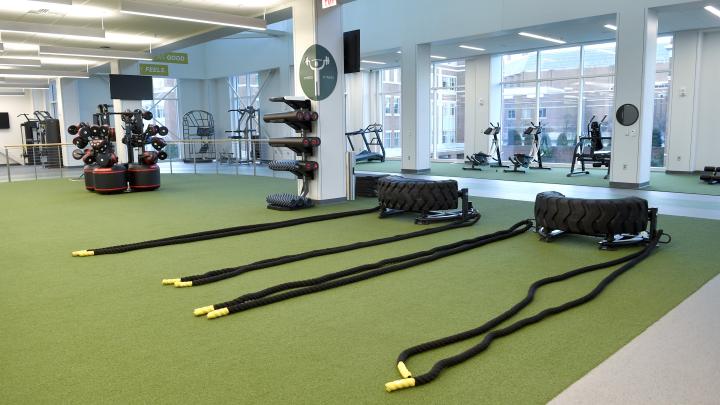 4th Floor
Cardio Deck with Treadmills, Bikes, and Ellipticals
Turf Flooring for Functional Fitness and HIIT Training
LifeFitness Synergy 360
Torque Fitness Sled
Functional Trainers
Various Cardio & HIIT Equipment
KettleBells, Dumbbells, and Weighted Bags
Tire Flips, Battle Ropes, and Slam Balls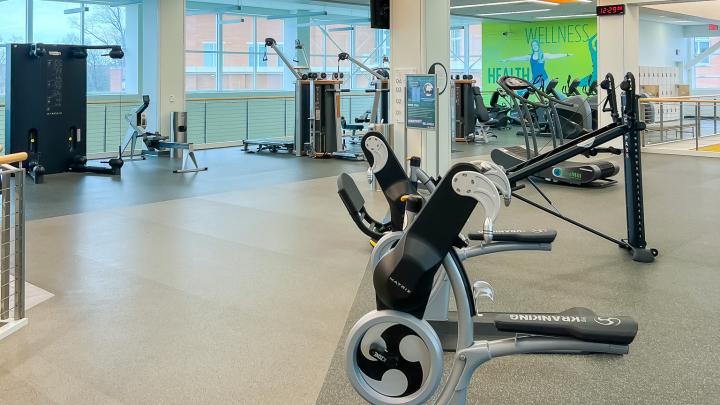 5th Floor
Various Cardio Equipment
TechoGym Kinesis & Stretchers
Mini Dumbbells